Donations
Help us to continue making a difference in our comunity. Please make a donation to the Girdletree Volunteer Fire Company today.

News Stories
Fri 9 16, 2016
Annual Toys for Tots Drive & 9th Cash Bash
The Girdletree Volunteer Fire Company is hosting it's 4th Toys for Tots Drive in conjunction with the 9th Annual Cash Bash on Saturday, November 19, 2016 from 7 to 12 PM. Tickets are $20 or Six (6) for $100. Plus bring a toy valued at $5 in its original unopened and receive a ticket towards the Cash Give-a-ways during the night. (Limit 5 Toy tickets per person). Click READ MORE for more inoformation and to Download an Event FYLER.
Read More
Tue 9 13, 2016
Assist Pocomoke with House Fire
On Tuesday, September 13, 2016 at 12:45 for a report of a residential structure fire. Girdletree assisted Pocomoke with an Engine Tanker 301 and Tanker 3. Other local fire companies on the scene were, Stockton, Snow Hill and New Church
Read More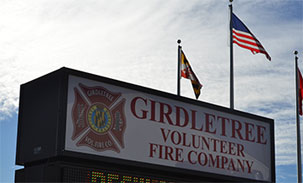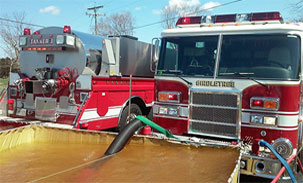 Live Run Log
Nature: Vehicle Accident

Address: 4100-Blk Worcester Hwy

City: Snow Hill, MD 21863

Thu Sep, 15 2016 @ 00:07

Nature: Medical Emergency

City: Pocomoke

Mon Sep, 12 2016 @ 14:09

Nature: Medical Emergency

City: Pocomoke
More Incidents
Recent News



8/14/2016

Motor Vehicle Accident

The Girdletree Volunteer Fire Company was alerted for a Personal Injury Motor Vehicle Accident at 19:24 hours on Box Iron Road near the corner of Truitt's Landing Road. Girdletree EMS provided BLS care for one patient. Another patient succumbed to his injuries.

Read More

4/16/2016

Girdletree Assist Snow Hill With Structure Fire

The Girdletree Volunteer Fire Company was dispatched as part of the initial Box Alarm for a reported structure fire at 4003 Bayside Road in Snow Hill (Public Landing).

Read More

4/13/2016

Girdletree Assist Pocomoke With Chicken House Fire

The Girdletree Volunteer Fire Company, along with Stockton and New Church Volunteer Fire Companies were alerted to assist Pocomoke with a Chicken House Fire on Payne Road. Engine/Tanker 301 and Tanker 3 responded.

Read More
Photo of Day
Online Radio

Play Now